Sustainability Career Event
The Sustainability Career Event is the national career event for students and starters at which sustainability and business are key! It is a yearly event organised by Morgen in collaboration with SustainableMotion. Our networks consist of many students, starters and young professionals who are eager to connect sustainability and business. The Sustainability Career Event is the place to be for these talents, who may have technical or social science backgrounds, to gather together and get in touch with their future employers. On February 6th 2020, the 9th edition of the most sustainable national career event took place.
Talent that dares to shape the future
The previous editions have each been visited by more than 900 students with an interest in sustainability and business. These talents come from over 245 different educational institutions (both vocational colleges and universities) from all over the Netherlands. Within this unique collection of technical and social educational programs, sustainability is an important part of the curriculum. They are the talents aiming to tackle the challenges of tomorrow!
The event offers talents and companies the opportunity to meet and interact with each other in different ways:
For every edition, guest lecturers from several inspiring organisations are invited to give the talents insights into their perspective on career possibilities within the area of sustainability;
At the company fair, talents and possible future employers meet each other in an accessible and low-key way;
In the afternoon, various workshops are held, in which companies present themselves and meet the talents in a direct interaction.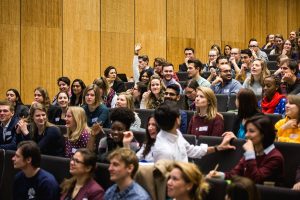 By now, hundreds of companies have come in contact with the talents they were looking for during this career event. If you have interest as a company in participating in the Sustainable Career Event, or do you want to stay informed as a student? Have a look at the website!